Animal Medical Clinic
The Animal Medical Clinic is a full service, small animal hospital located in Shepard Place Shops in Carpinteria, California. Our goal is to provide top quality, "Big City" medical services, with a friendly, "Small Town" feel. As our motto suggests, we view our clients as our neighbors, and we like to treat them that way.

Dr. M. Scott Smith has over twenty years of clinical experience and is the only doctor at our practice. This means you will always be assured of seeing the same veterinarian at each visit, who will know both you and your pet. In addition, Dr. Smith makes himself available for after hours emergency consultations and can even make house calls when the situation warrants it.

Medically, our focus is on preventative medicine and client education. Our role is to assist you in maintaining your pets good health throughout all the stages of their life . When problems occur, we believe that our patients are the ones who heal, and our job is to create the best environment and circumstances for that healing to occur. We practice traditional, science based medicine, but do refer to, and work with, alternative practitioners when appropriate.

We offer a full range of medical, dermatological, surgical, nutritional, and dental veterinary care. We are the experts in parasite control and can provide you with the best and safest products to keep fleas and ticks off your pet. With an in-house pharmacy and access to specialists, our facility offers a one-stop-shop for your pet's health and medical care.

Feel free to stop by our hospital for a visit during our regular hours. You will always be met with a smile and a friendly face!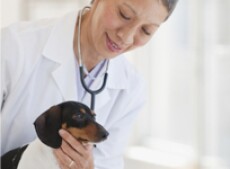 1037 Casitas Pass Rd

Carpinteria

,

CA

93013

Phone: (805) 684-8665
Fax: (805) 566-5668
Mon-Fri: 7:30AM-6:00PM
Sat, Sun: Closed
After Hours Emergency?
Call: 805-684-9393